Handyman and Bathroom Remodeler in Aurora
At AK Remodeling, you can count on excellent craftsmanship from a licensed and insured contractor. Rely on Andy, local handyman and bathroom remodeler in Aurora and Denver for all your home contracting needs. AK Remodeling takes the stress out of bathroom renovations and remodels. From start to finish, all the project needs are taken care of in one place. Experience precise bathtub fittings, shower head installations, and perfect tile work every time.
Need more than a bathroom remodel? AK Remodeling has more than 20 years of experience serving Colorado residents. From woodwork and cabinetry to tile work and home repairs, AK Remodeling does it all. 
When It's Time for a Bathroom Remodel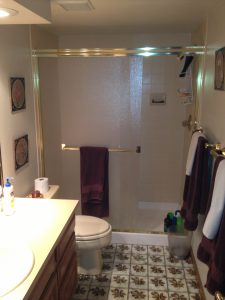 There are many things that can go wrong in your bathroom. Leaky sinks, broken toilets, and tired tubs can easily become a money pit. Find out more about these common signs that you need a bathroom remodel.
You have cracks in your tub or shower.

Old tubs and showers are prone to cracking and discoloration. If you're tired of looking at your stained and cracked tub, it's time for an upgrade. New tubs and showers should be installed at an angle for proper drainage in future.

You have multiple leaky areas.

There's nothing more annoying than having multiple leaks. These leaks can occur from your toilet, under the sink, or in your shower head. Leaks are often accompanied by water damage and increased water usage. 

Your water bill spikes.

Sudden increases in your utility bill could signal an outdated shower head. Old shower heads are more likely to use excess water when they wear out. A bathroom remodel guarantees a new system that will save you money.

You have an old toilet.

Older toilet models use 20 percent more water than newer models. Upgrading to a water-efficient toilet during your bathroom remodel could save you up to 13,000 gallons of water per year. 
Contact AK Remodeling, a local bathroom remodeler in Aurora, Colorado for more information on how to start your bathroom renovations today.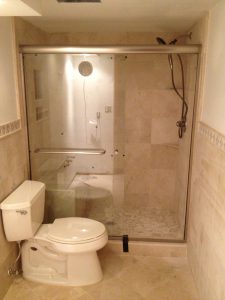 Types of Bathroom Remodel Projects We Have Done
AK Remodeling has the experience needed to complete your bathroom renovations in a timely and professional way. Previous examples of bathroom remodel projects completed include:
Master Bath Remodeling
Master Baths require a lot of attention to detail. New fixtures, tile work, tub and shower installations, and more are required for this in-depth option. AK Remodeling has even performed radiant floor installation for past clients. This smart flooring uses electro-conductive textile fibers to heat the floor throughout the bathroom. Instead of relying on conventional methods of flooring, AK Remodeling takes bathroom renovations to the next level. 
Tub and Shower Remodeling
Basic tub and shower remodeling is a common option completed for clients. New plumbing, shower controls, and tile work are all included during this type of renovation. AK Remodeling is happy to assist with basic installs to complex redesigns. You can even preview before and after pictures from past projects for inspiration. For the best bathroom remodeler Aurora, call us today!  
I always use a level!
AK Remodeling takes pride in quality remodeling having been in business in Colorado for over 20 years, I have achieved 100% customer satisfaction.
So, don't settle for less… call the best.